Maybe you heard of him, and maybe you didn't. Dennis R. Washington was born in 1934 and is an American industrialist, who owns an interest in, a large consortium of privately held companies, known as the Washington Companies. And in Canada, another collection of companies known as the Seaspan Marine Corporation.
The Washington Group
A large consortium of companies which are owned by Washington is known as the Washington Companies. Part of the Washington Group is also Seaspan Marine Corporation, which is active in marine services. He also owns the Seaspan Marine Corporation, which is active in marine services. It includes three shipyards, barge transportation, tug services, and a ferry business.
Washington's Early Career
Dennis Washington started working at his uncle's construction company. When he was 30 he purchased a bulldozer and started his own construction company. After only five years, his company was the largest contractor in Montana.
Montana Resources
He bought a copper mine in Montana, in the 1980's and today this company, Montana Resources is worth more than $1 billion.
Movie Overboard
He was the owner of several yachts, all named Attessa. One of his yachts, now named Huntress, was used in the movie "Overboard", in 1987. And in 1993, one of his yachts was featured in the Demi Moore movie, Indecent Proposal.
His Net worth and Philanthropy
Washington's net worth is around $6 billion. He is also an active philanthropist through his Dennis and Phyllis Washington Foundation, which donated more than $130 million.
Dennis Washington's House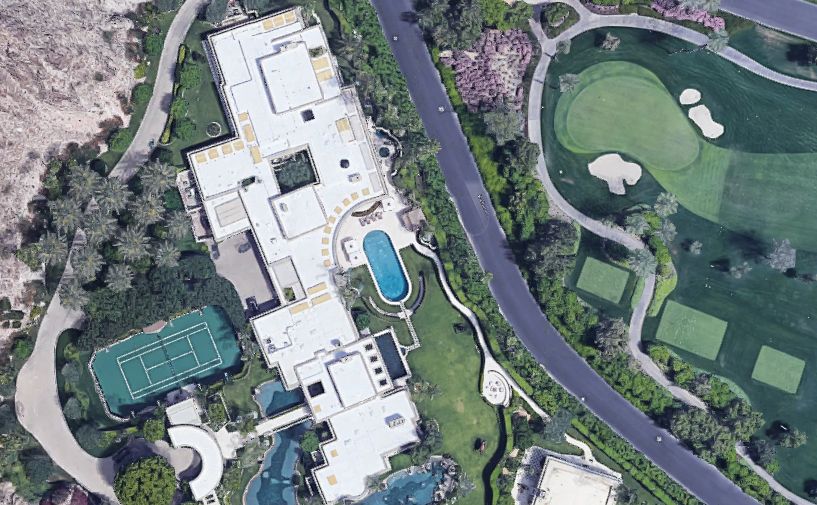 Dennis and his wife Phyllis own a large house in Indian Wells, California, with a large pool and a tennis court. The value for property taxes is around $86 million. He also owns a large estate in Missoula, Montana, which also has a tennis court and a large lake.
Phyllis Washington
His wife Phyllis owns an exclusive antiques store named Maison Felice. She opened it in 1998, in Palm Desert, California. Maison Felice is her culmination of the love for antiques, travel and interior design. Today she owns over 25,000 square feet of beautiful objects and furnishing from the 18th century to Art Deco, and her stores are the favorite destination for many top west coast designers.
Dennis Washington Yachts
Dennis Washington is also the owner of three luxury yachts: The FeadshipAttessa, the Evergreen yacht Attessa IV and the St. Eval yacht.
Attessa IV
This motor yacht was originally built as Evergreen, for the chairman of the Evergreen Shipping Line, Chang Yu-fa. Dennis Washington bought this yacht from Chang, in 2007. And named it Attessa IV.
The rebuilding of The Yacht
The yacht was totally rebuilt under the project management of the Washington Yachting Group. The project lasted for 3,5 years, and almost everything was changed. They did a new interior, and the bow, stern and superstructure were all changed.
Yacht Attessa Interior
The interior of the yacht is very luxurious and was done by Glade Johnson Design and Washington's wife Phyllis. We can bet that you never saw an interior like this one. The master suite was decorated as an homage to the glamour of Hollywood in the 1930s. There is also a fireplace, which is a 19th century English piece with statuary marble. The stairs are spiraling through five decks and are split into pairs of semi-circles divided by a fore and aft passageway, making a landing and foyer at each deck. The yacht has a crew of 21 people at all time and can accommodate 28 guests. The estimated value is $150 million. Bill Gates was using this yacht, in 2012 for a family holiday in Belize.
San Diego Collision
Attessa IV was involved in a collision in October 2018, with a fishing boat, near San Diego. The crash caused extensive damage to the starboard quarter of the fishing boat, disabling it and causing several injuries and one fatality. The cause of the crash is still under investigation.
Private Jets and Helicopters
Dennis Washington also owns several private jets and helicopters. He owns a Boeing 737 business jet, with registration N162WC. And a few helicopters, Eurocopter EC135 with registration N161WC, a BAE Hawker 800 with registration N164WC and another Eurocopter EC135 with registration N165WC. The Eurocopter EC135 with registration N165WC is permanently based on his yacht Attessa IV.